15 Set

DDB Design Diffusion Bagno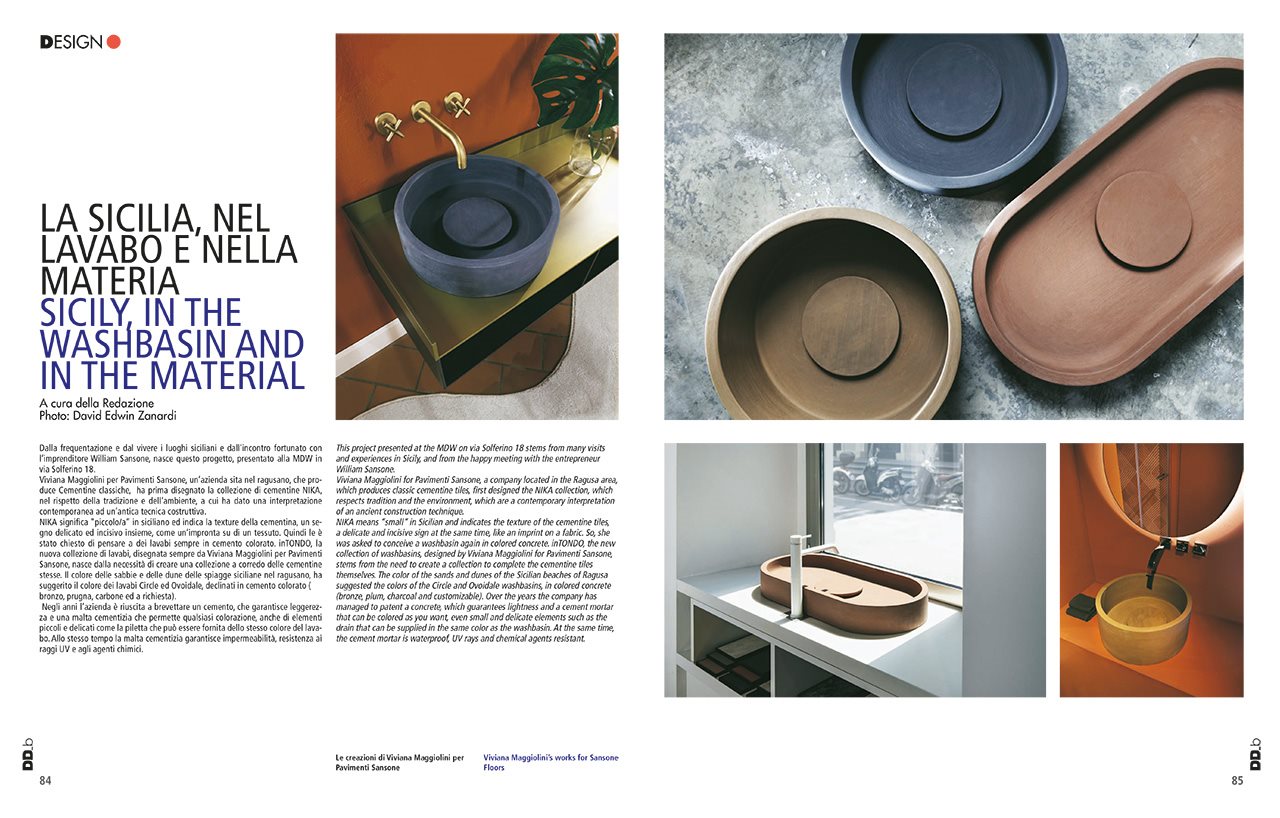 LA SICILIA, NEL LAVABO E NELLA MATERIA
Dalla frequentazione e dal vivere i luoghi siciliani e dall'incontro fortunato con l'imprenditore William Sansone, nasce questo progetto, presentato alla MDW in via Solferino 18.
Viviana Maggiolini per Pavimenti Sansone, un'azienda sita nel ragusano, che produce Cementine classiche, ha prima disegnato la collezione di cementine NIKA, nel rispetto della tradizione e dell'ambiente, a cui ha dato una interpretazione contemporanea ad un'antica tecnica costruttiva.
NIKA significa "piccolo/a" in siciliano ed indica la texture della cementina, un segno delicato ed incisivo insieme, come un'impronta su di un tessuto. Quindi le è stato chiesto di pensare a dei lavabi sempre in cemento colorato. inTONDO, la nuova collezione di lavabi, disegnata sempre da Viviana Maggiolini per Pavimenti Sansone, nasce dalla necessità di creare una collezione a corredo delle cementine stesse. Il colore delle sabbie e delle dune delle spiagge siciliane nel ragusano, ha suggerito il colore dei lavabi Circle ed Ovoidale, declinati in cemento colorato (bronzo, prugna, carbone ed a richiesta).
Negli anni l'azienda è riuscita a brevettare un cemento, che garantisce leggerezza e una malta cementizia che permette qualsiasi colorazione, anche di elementi piccoli e delicati come la piletta che può essere fornita dello stesso colore del lavabo. Allo stesso tempo la malta cementizia garantisce impermeabilità, resistenza ai raggi UV e agli agenti chimici.
SICILY, IN THE WASHBASIN AND IN THE MATERIAL
This project presented at the MDW on via Solferino 18 stems from many visits and experiences in Sicily, and from the happy meeting with the entrepreneur William Sansone.
Viviana Maggiolini for Pavimenti Sansone, a company located in the Ragusa area, which produces classic cementine tiles, first designed the NIKA collection, which respects tradition and the environment, which are a contemporary interpretation of an ancient construction technique.
NIKA means "small" in Sicilian and indicates the texture of the cementine tiles, a delicate and incisive sign at the same time, like an imprint on a fabric. So, she was asked to conceive a washbasin again in colored concrete. inTONDO, the new collection of washbasins, designed by Viviana Maggiolini for Pavimenti Sansone, stems from the need to create a collection to complete the cementine tiles themselves. The color of the sands and dunes of the Sicilian beaches of Ragusa suggested the colors of the Circle and Ovoidale washbasins, in colored concrete (bronze, plum, charcoal and customizable).
Over the years the company has managed to patent a concrete, which guarantees lightness and a cement mortar that can be colored as you want, even small and delicate elements such as the drain that can be supplied in the same color as the washbasin. At the same time, the cement mortar is waterproof, UV rays and chemical agents resistant.
Progetto: Viviana Maggiolini
Photo: David Edwin Zanardi
#inTondo #wall #homedecoration #cementine #concrete #lavabi #sicily #vivianamaggiolini #nika